With his tridem-axle Pottinger loader wagon, Hauraki Plains contractor Richard Flint can now harvest grass on peat soils without getting bogged.
Richard's company RK Flint Contracting Ltd, mainly looks after dairy farmers from a base near Ngatea. He and his team do pretty much everything farmers need – precision planting, bulk silage, baling, spraying, fertiliser spreading, undersowing and cultivation.
RK Flint Contracting runs a range of Pottinger equipment, including Pottinger's Alpha Motion 301 front mount mower, and the Novacat 302 rear mower, a twin-rotor Top 842C rake and three Jumbo loader wagons. The loader wagons are the heroes of this story.
Richard purchased his first loader wagon, a 35m3 Pottinger Jumbo 6000L back in 2007, and his second a 38m3 Jumbo Combiline 6610L in 2014. He added the triple-axle 41.5m3 Jumbo Combiline 7210L last year (2019)
He has stuck with Pottinger Jumbos because of their reliability and because of the backup service he gets from New Zealand distributor OriginAg.
"They just seem to bloody last. The one i brought in 2007 is still going strong", he says.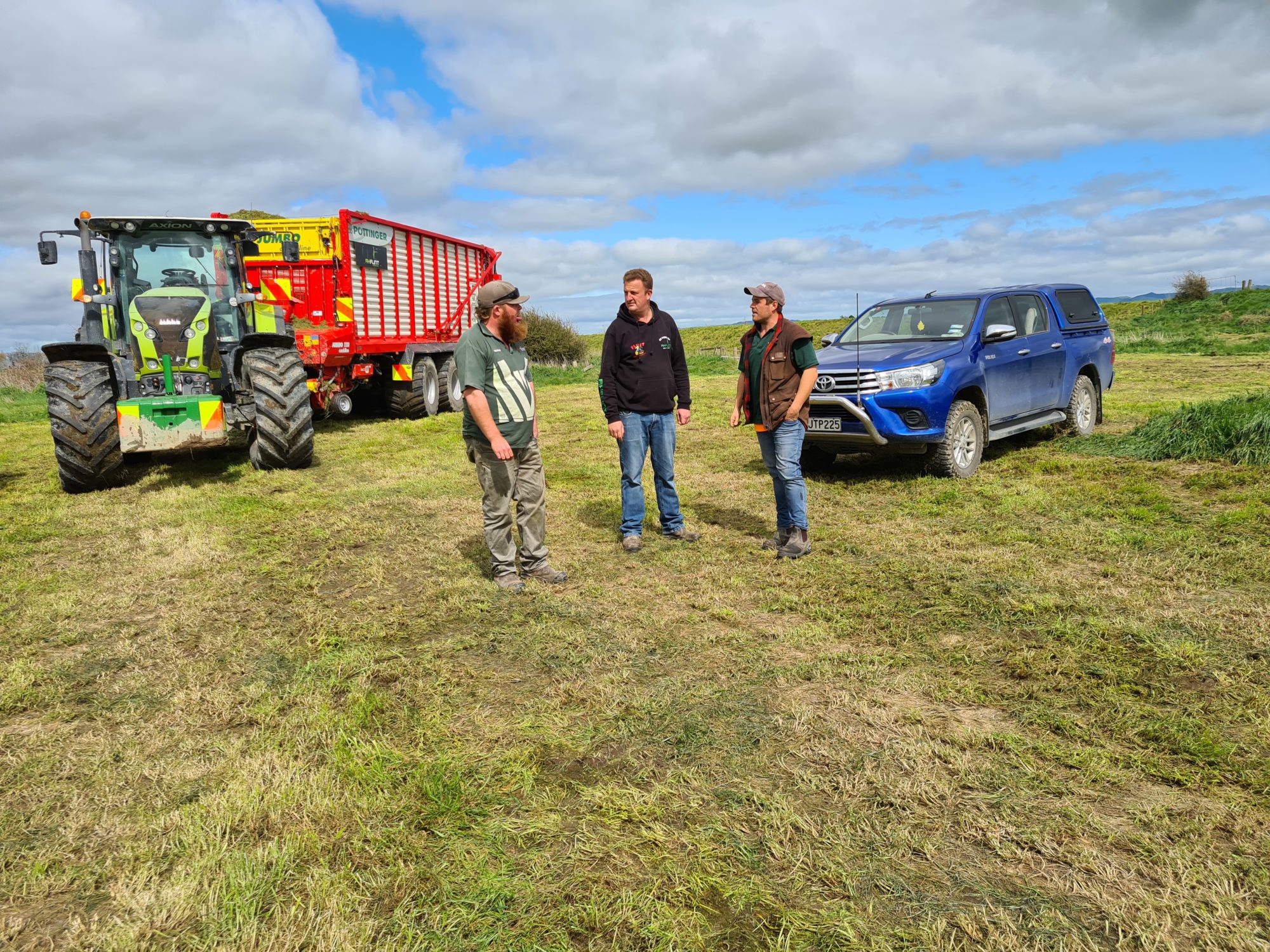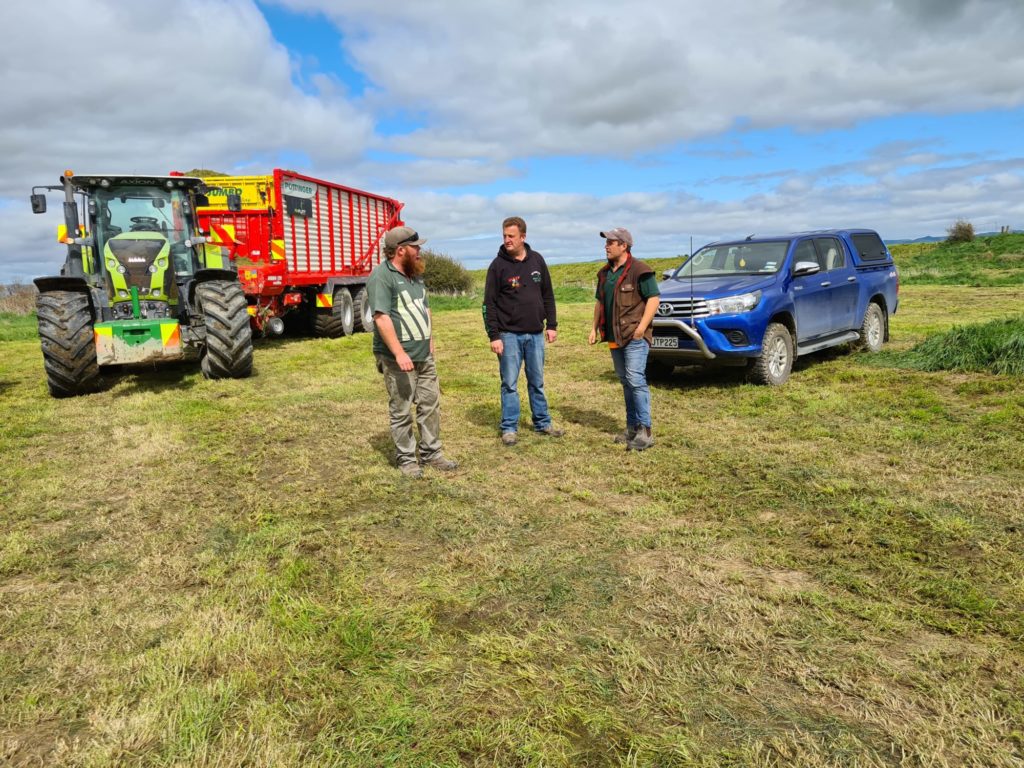 Pottinger Jumbo wagons are a cost-effective, efficient way to produce high-quality silage thanks to their pick-up, chopping and loading performance.
The seven-row floating pick-up on the Jumbo loader wagons is 2000mm wide and sweeps up the crop quickly and cleanly, even when it is grouped in uneven swaths.
Pottinger has also equipped its loader wagons with the Powermatic Plus driveline. It can handle torque from tractors up to 450HP, and it provides high compaction of the load and fast unloading in less than a minute.
Powermatic Plus also delivers high output chopping, which is a vital element in the production of high-quality silage. The long arched knives slice along the full length of the cutting edge and give a theoretical chop length of 34mm.
Dual-purpose Combiline versions of Jumbo loader wagons offer an additional benefit because they can also serve as a silage trailer with a self-propelled forage harvester.
When used as a silage trailer, they can travel next to or behind the forage harvester, a front flap can fold down to give the driver a good view from the cab into loading chamber when the wagon is following behind the forager.
Richard uses his Jumbo's to harvest grass as a loader wagon and as a trailer to harvest maize with his Claas Jaguar harvester.
It requires some specific strategies to farm Waikato's peat soils. To better harvest grass from them, Richard specified his latest Jumbo Combiline 7210L with not only a tridem chassis but also super wide 800/26 tyres and hydraulic suspension.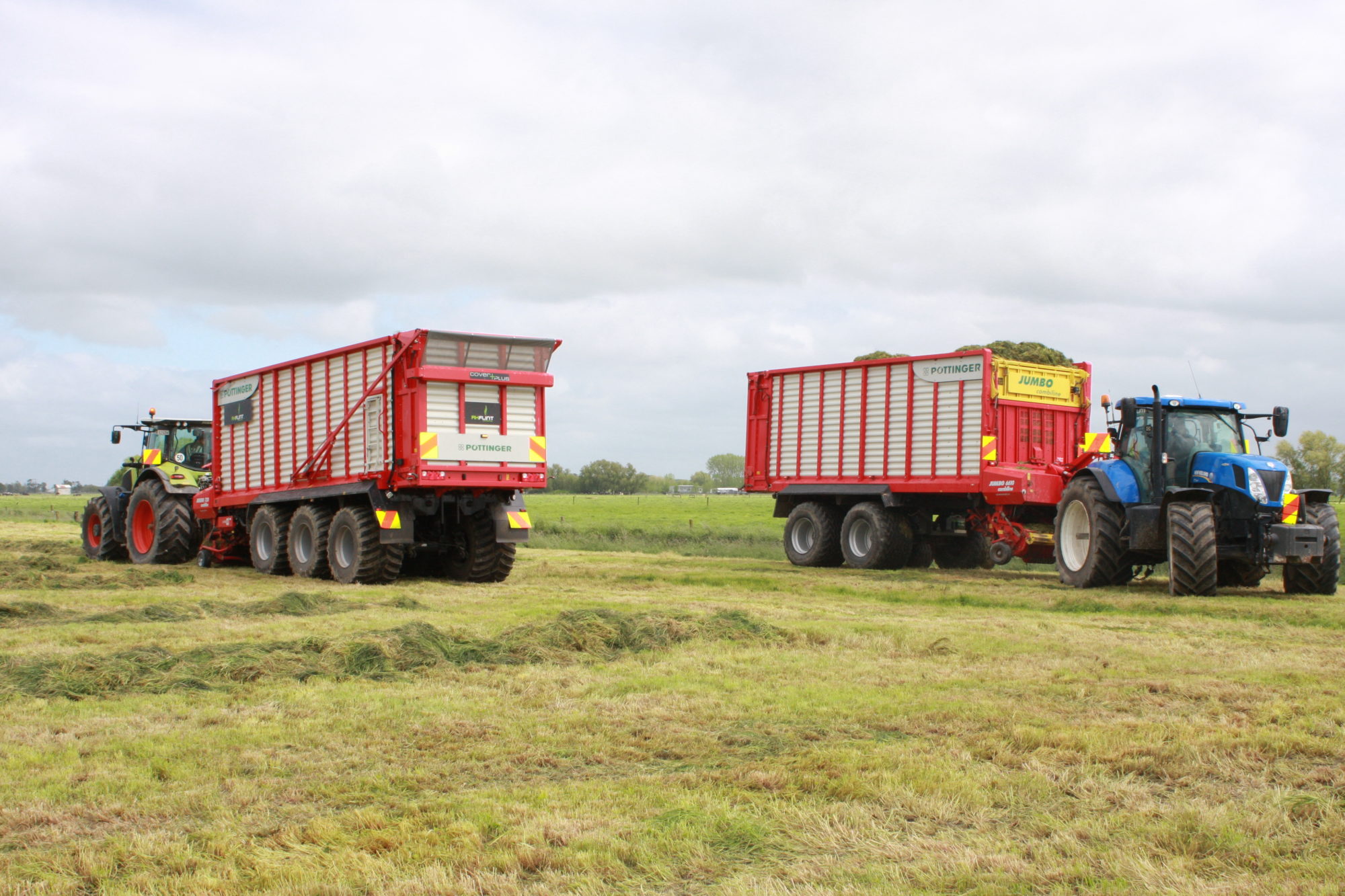 "The triple-axles and wide tyres create less compaction, not only in the peat but also in the marine clay soils that we work on" Richard says.
"With three axles there is less weight on each one and the wagon just seems to float over the ground. it never sinks".
"The hydraulic suspension is also really good. With a spring-leaf suspension there is lots more rocking. If you hit a hole with hydraulic suspension, the wagon doesn't sway. The other tyres take the weight."
Its hydraulic suspension makes the Jumbo Combiline 7210L more stable on hills, Richard says.
With hydraulic suspension the wagon more closely follows the tractor on steep ground and on the silage stack and the wheels are more widely spaced (at 1085mm), which adds stability.
Reducing compaction not only is good for farmers, it is good for contractors. Pottinger says deep wheel marks can raise fuel consumption by up to 10 percent.
RK Flint Contracting's two Jumbo Combiline's also have weigh scales. Richard says they are accurate enough to estimate the load with a margin of error by 1-2 percent.
"With the weigh scales, we can tell the farmer how many wet tonnes of silage are in their stack. They can then send a sample off to the lab to get a good estimate of how much dry matter they have."
The weigh scales provide added safety too. The operator can set a maximum load weight and the weigh scales will trigger a warning if the weight is exceeded.
Richard Flint purchase's OriginAg equipment from AGrowQuip NZ Ltd, and he says they give him excellent sales support and backup service